Pastor Bill Pier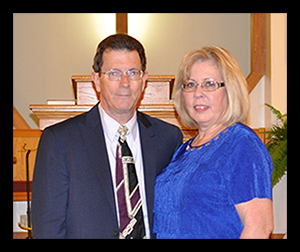 Bill was raised in a missionary home in Colombia, South America. He accepted the Lord as his Saviour in January of 1964 and was baptized in water and in the Holy Ghost that same year in March. He attended two boarding schools, one in Colombia, run by the Evangelical Union of Latin America and the other in Venezuela, run by the Christian Missionary Alliance. There at Christensen Academy he was the student pastor during his time there.
Leah was raised in a Christian home in northern Maine, attended Evangel University, graduating in 1975 with a degree in Elementary Education and a minor in Music. She is an accomplished pianist especially in the religious music and church worship. She is also a certified teacher in North Carolina, Missouri, Maine and Texas. They were married in 1974. They have two grown children, both living in North Carolina. Erica Noell in the northwestern part and Jonathan William in the eastern part.
William Pier graduated from Faith School of Theology in Maine in 1977 with a diploma in Theology. William was ordained to the ministry by the Assemblies of God in 1982. They pastored two churches and were on staff in two others in Maine and Connecticut from 1977 until 1985 when they were commissioned as missionary to Costa Rica and Colombia until 1996, serving as an Executive Presbyter in both Colombia and Costa Rica. During four years in California they worked pioneering a Spanish church in Windsor.
They have also been involved in evangelistic work in North, Central and South America, and ministered as well in family seminars, women's meetings and men's retreats. Both are totally bilingual and bicultural giving him a decided advantage in working hand in hand with the various churches in different countries of Latin America. This also gives them an advantage here in the United States as we are quickly becoming a multi-cultural nation, now more than ever.